Meet Our Attorneys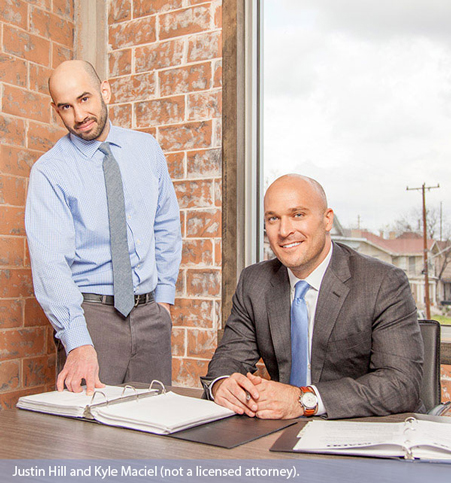 Hill Law Firm is a San Antonio, Texas based law firm that has won awards, been recognized by legal peers, had great successes in the courtroom, and most importantly, has a lot of satisfied clients. Our firm was started with a passion for helping out those whom have been wronged. Founding attorney Justin Hill has spent his entire career helping clients who need an advocate to stick up for their rights. While we practice primarily in the areas of personal injury, product liability, oil & gas, and commercial litigation, we are a law firm dedicated to the principle that every client deserves a zealous advocate and their day court. If you have been injured due to the negligence of someone else and would like to speak to a lawyer, please contact our San Antonio personal injury attorney today for a free legal consultation.
When someone is injured or loses a family member due to an accident or the negligence of another, they often consider hiring an injury and accident attorney, but knowing the best attorney to hire can be difficult. As is expected, when considering to hire a lawyer, people want to hire the best personal injury lawyer that they can find. Unfortunately, there is no objective way to determine if the lawyer you are considering hiring is capable or not. Rather, when considering hiring an attorney, victims to should look for a few key factors to determine if an attorney will help them achieve justice and the full compensation they deserve.
When determining whether or not to hire an attorney, victims and their families should evaluate the lawyer in the following areas:
EXPERIENCE
An attorney is only as good as their ability to get the best result for their clients. Years of practice does not necessarily equal experience in prosecuting cases in the best interests of clients. Be sure to ask the attorney about the types of cases they have handled, their experiences in trial, and anything else that you think is particularly important to your case. For example, Hill Law Firm is often asked about their experience prosecuting Dram Shop cases against bars that over-served drunk drivers when meeting with victims of drunk driving accidents.
COMFORT
Before hiring an attorney, make sure you are comfortable with that attorney and their staff. Through the pendency of a lawsuit, a client will work closely with and spend many hours communicating with his or her attorney and the attorney's staff. Comfort is very important.
PEER RECOGNITION
While some of the best lawyers are ones you will never hear of, consider whether or not an attorney has been recognized for their achievements. While peer recognition and awards are not 100% accurate, they are indicators that the lawyer at least has some people vouching for his or her abilities. Further, Justin Hill has been recognized as Texas Super Lawyers Rising Stars (Texas Super Lawyers Rising Stars is a Thompson Reuters Service), Top 40 under 40 (Awarded by the National Trial Lawyers), and Top 100 Trial Lawyers in Texas (Awarded by the National Trial Lawyers).
ALIGNMENT
It is important that the client and their attorney is on the same page when it comes to their strategy. Some clients refuse to ever go to trial and have a lawyer that is pushing the case to trial and vice versa. Before hiring an attorney, potential new clients should always discuss their expectations with any attorney they are considering to make sure they both agree on the plan. Do not hire an attorney without considering these factors and any others that you deem important. At the end of the day, a client and their attorney should be on the same page and trust each other. When trying to hire the best personal injury lawyer, remember to hire the right lawyer for your specific needs as a client. If you're looking for an aggressive, capable, and compassionate attorney to handle your case, contact the San Antonio lawyers at Hill Law Firm today for a free case evaluation.